KALADESH IN REVOLT
People of Kaladesh, it is time to rise up.
We've seen the Consulate's "progress" and their "promises." Inspectors on every corner and surveillance thopters peeking in our windows. Aether diverted from poor neighborhoods to fuel undisclosed programs. Thousands of inventions stolen from their creators. Peaceful automatons morphing into military enforcers. The moment Grand Consul Tezzeret installed his policies was the moment we lost our freedom. We will take it back.
Stand with us on the barricades. Make the Consuls listen to the truth. Stay safe, stay aware, stay true. Help us create the world you want to live in. Make Ghirapur our city again!
Saturday January 14th: 12AM, 11AM, 5PM Sunday January 15th: 11AM
You'll experience the thrill of opening Aether Revolt cards for the first time, at an event filled with other Magic players who enjoy the game just as much as you. Everything you'll need to play should be provided as part of your entry fee – you simply show up and play!
You'll build a 40-card minimum deck using the contents of a themed Prerelease pack. This play format is called "Sealed Deck."
After you build your deck, you'll be randomly paired with another player for a best-two-of-three match. Each round, you'll report who won and be paired up with a new player. If you do well, you may get additional Aether Revolt booster packs as prizes!
PRERELEASE PACK CONTENTS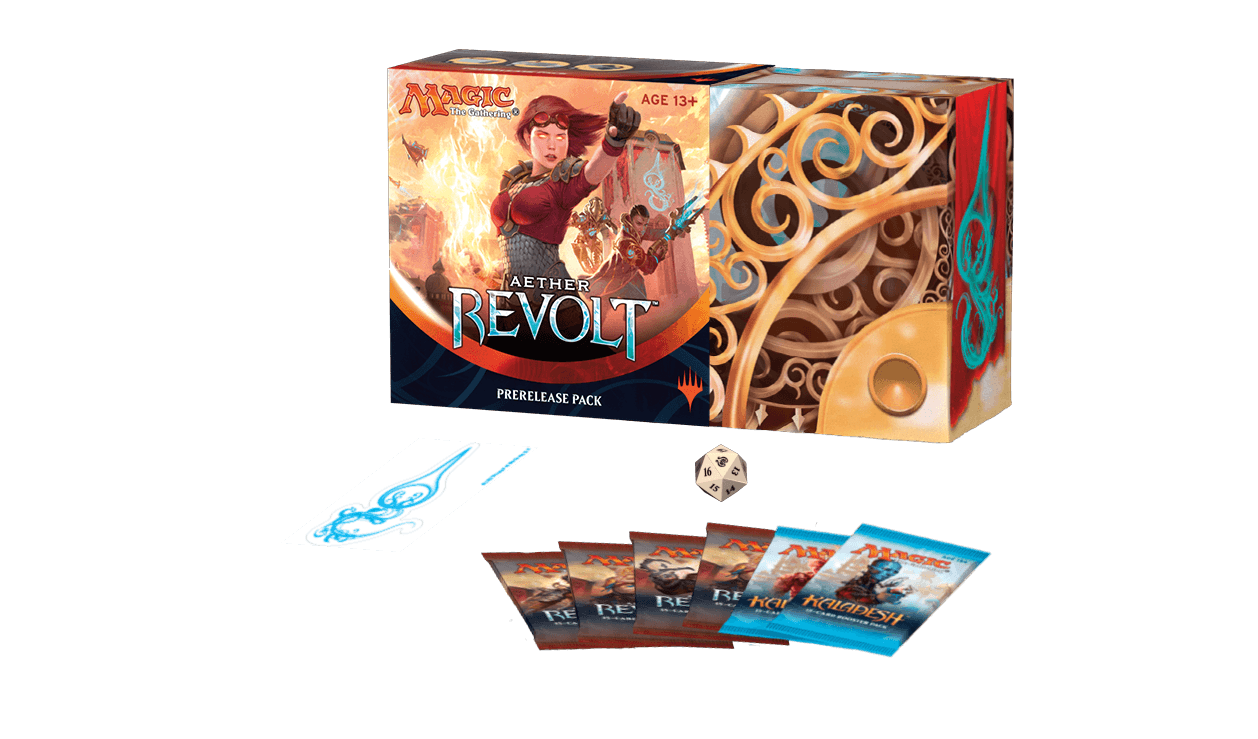 4 Aether Revolt booster packs
2 Kaladesh booster packs
Randomized date-stamped premium promo card
Spindown life counter
Renegade sticker
Insert with deck-building advice